Sustainability
 "We don't need a handful of people doing zero waste perfectly. We need millions doing it imperfectly." - Anne Marie Bonneau
I hand package all orders with the earth in mind. Adopting sustainable practices and ethical packaging is an ongoing effort in my business, art making, and personal life, and is one of the core values within this small business.
Collapsible content
Eco-Friendly Resin

Many items are made with eco-friendly resin, meaning it is made from renewable materials. Items created with eco-friendly resin will be clearly listed in the description of items in the shop.
Carbon-Offset Shipping

Shipping emissions are neutralized through carbon removal and funding of climate solutions from every purchase.
Eco-Friendly Packaging

I am proud to say that you will receive your order in 100% eco-friendly packaging! This means I am using supplies that are made from recycled and compostable materials, do not include unnecessary plastic wrapping, and they themselves are recyclable, biodegradable, or compostable.
Here's what you can expect in your order and how you can keep the sustainable cycle going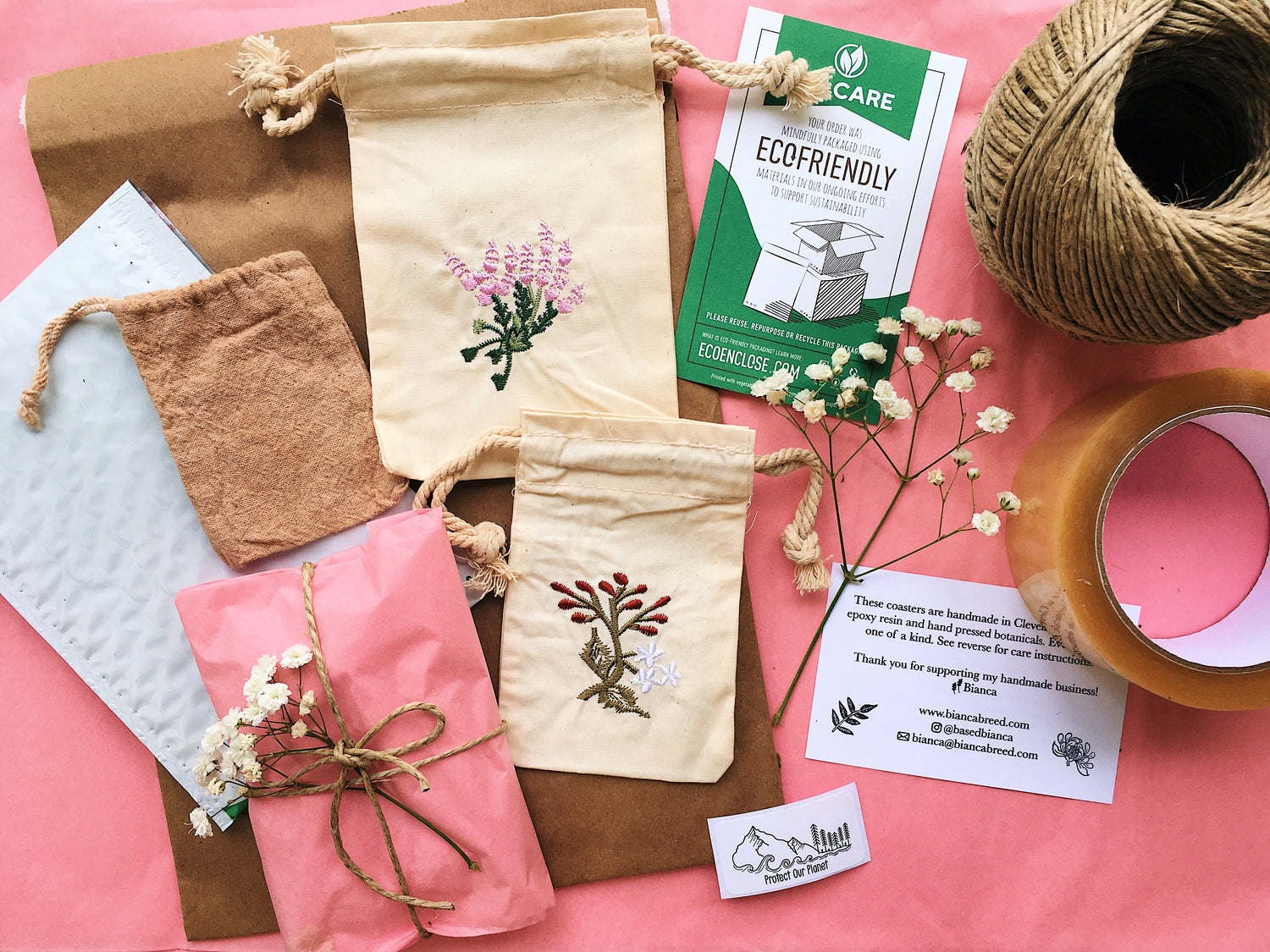 Reused Materials

In addition to these sustainable items I have mindfully sourced, I save and reuse other packaging materials as much as I can. These materials come from packages that I receive. If you receive your item with bubble wrap, paper padding, alternative box, or a twine and tissue paper alternative, it is second hand from another shipment! 
Brown Padded Mailer

Made with 100% recycled paper and padded with recovered newspaper.

Fully recyclable and naturally biodegradable.

Compostable once all labels and tape have been removed.
Bubble Mailer

Most small items are mailed in EcoEnclose eco-friendly bubble mailer.

Made from recycled plastic and is recyclable. It also has a double seal, meaning once you open your package, it can be reused again before being recycled.
Compostable Tissue Paper

Fully recyclable and compostable, and sourced from a small business with aligning values. Complete with cutie dragonflys :)
Hemp Twine

Biodegradable and compostable, made from 100% natural hemp. 
Shipping Labels

I print all shipping labels on plant-based thermal labels. Other materials are printed on 100% recycled copy paper with reused ink cartridges. 
Plant-based Tape

I use EcoEnclose Cello tape to secure your shipping label to your package. It is made from plant-based materials and is recyclable. This is unlike regular tape, which is plastic and non-recyclable. 
Seed Paper Earrings Backs

Earrings arrive mounted on handmade recycled plant seed paper, which can be planted under a thin layer of soil to grow a selection of wildflowers and sunflowers!
We Care Card

Printed with vegetable ink on 100% recycled paper made from post consumer waste. This card lets you know all about your packaging and how to find out more information about some of the shipping materials used if you are interested.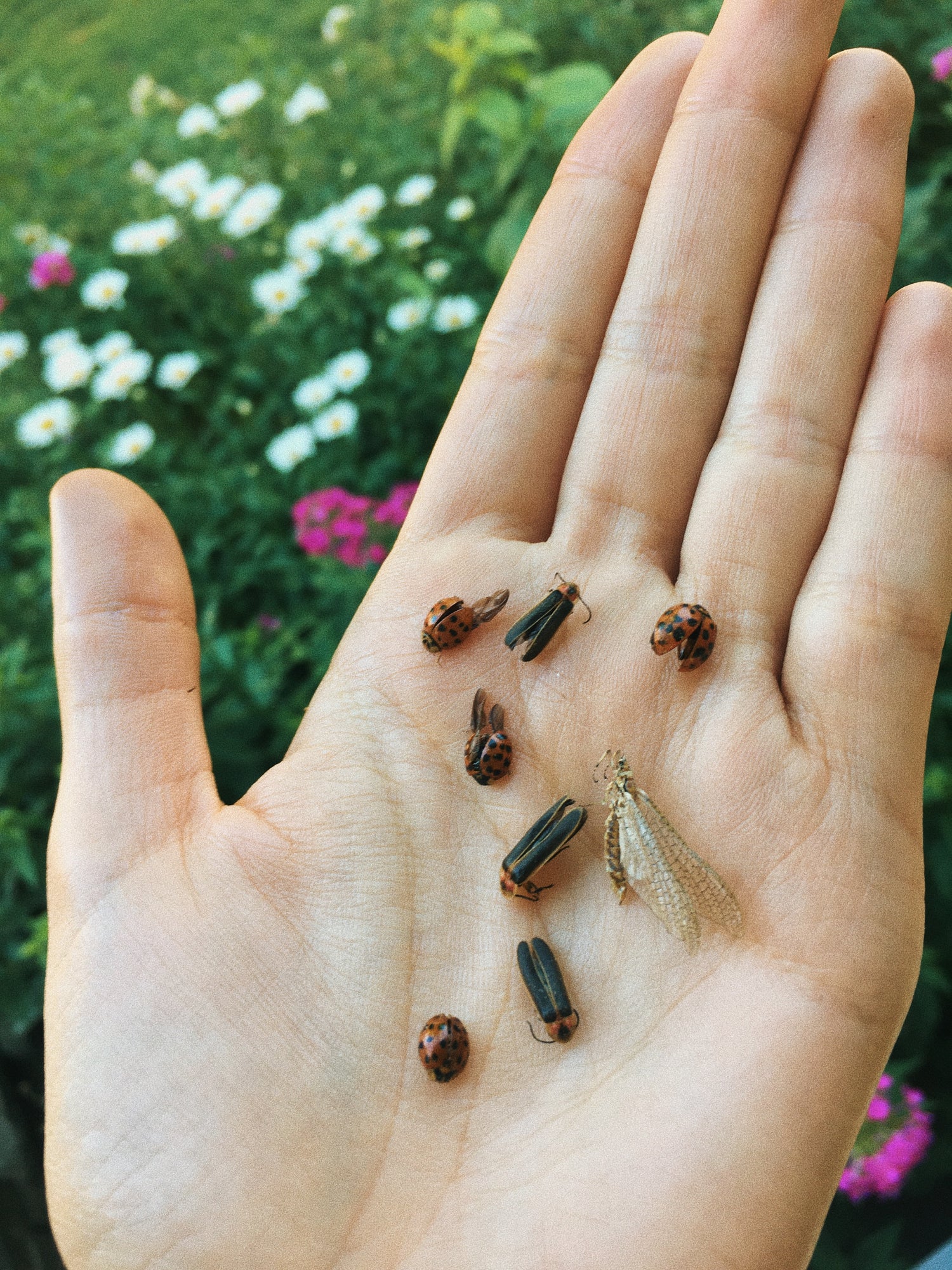 Insect Sourcing
In many of my pieces, I preserve insects among the flowers to honor them and give them a second life.
All insects used in my work are sustainably and ethically sourced, meaning they have been collected and preserved after their natural death, and never harmed for human consumption. Many insects I have found dead on walks, on my porch, and in window sills, or have been donated to me by friends who have found them in the same way. Others are sourced from private collections with confirmed sustainable practices.
It is my priority to uphold these values and integrity when creating work with specimens. Additionally, what may be ethical for me may not be ethical for you, and that is okay. I appreciate your understanding.